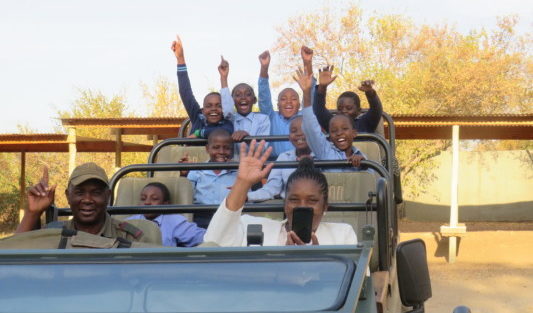 Garonga – Doing good for the community
Garonga is a lodge that we love, for many reasons. Bernie the owner, is fun and creative and his lodge is full of original ideas and spaces that surprise the guests in ways that you will not find in any other lodge.
Besides the lodge itself, we wanted to bring forward an initiative that we applaud. Last July (and this is not the first time) Garonga invited a group of school children to the lodge.
The point is to broaden their mind. First, they are met at the lodge and shown around all the various departments with a senior staff member then they head to a talk on conservation and general topics. This is followed with a very lively meeting with one of the top trackers in the country, who share with them, his life from his childhood to how he got to qualify as a Master Tracker (a title that is only held by a few in the country). After a scrumptious lunch at the lodge, the group heads for a safari on the reserve. This is really exciting, because most of them have never seen wild animals in their natural context.
We love this initiative, because it gives an opportunity to children to experience something that is inaccessible for most of them, but beyond the luxury of the lodge they give the children an opportunity to experience the bush in its natural state as well as inspire some of them through career guidance.
I think that these children will cherish the memory of this day for a very long time.
Well done Garonga !